About Amra Fashion
It is an Online Store legally incorporated in the United States, which sells different kinds of clothes and accessories for women of high quality. We distinguish ourselves by being an Agile, Modern, Responsible, and Amiable (AMRA), always providing the best for all our customers, in harmony with the community. For these reasons, our main objective is to provide clear assistance to all our customers because we believe that Great business equal great relationship.
Our business idea was born because we love fashion, and we are pleased to satisfy to the tastes and expectations of women through the presentation of clothing and accessories to highlight your natural beauty and conform to your lifestyle. That is why our work is to sell to our customers clothing and accessories of high quality at reasonable prices suited to your perspective at the time of purchase at 
www.amrafashion.com
.
Amra Fashion sells clothes and accessories from different providers that we carefully selected to accomplish our mission that is to provide high quality products to our final customer. Amrafashion.com has different seller distribution centers in the United States especially in Los Angeles, CA, and New Jersey. We also have distributors around the world that drop ship products directly to your door; because Amrafashion.com believes in the power of technology and virtual connection that unites our world into one, so that you can have exclusive and fashionable products not found anywhere.
Alba Osorno is the founder of Amrafashion.com an entrepreneurial woman who combines her two biggest loves, her careers in international business and Education.  Alba Osorno is an immigrant from Colombia South America who arrived at the United States in 2013. She is currently married an amazing American man. From the moment she arrived in the U.S., her American dream was to open her own business. How but, it was difficult because she did not have all the tools needed to succeed due to her limited English language skills, her economic situation, and her lack of knowledge about the new country.  In 2014 she opened Amrafashion.com without great success, so she decided to start a career in Early Childhood Education teaching Pre-K students along with her husband.
Was 2020 the great time to reopen Amrafashion.com? In March 2020, the schools were closed due to the Pandemic the uncertainty of not knowing what will be happen next gave her the idea to reopen Amrafashion.com. This idea came to her mind at a moment when no one was able to leave the house and most people began purchasing more through the internet.
In Alba 's mind the first though was to help all those fantastic ladies who works from home and want to look countable, stylish and fashionable. She wants to bring a new sense of style to ALL kinds of ladies from different sizes and body shapes. So, her first idea that came to mind was to reopen Amrafashion.com 
on June 19, 2020 with a lot of success and stronger than ever and to cater to the fashion ideal of the customers.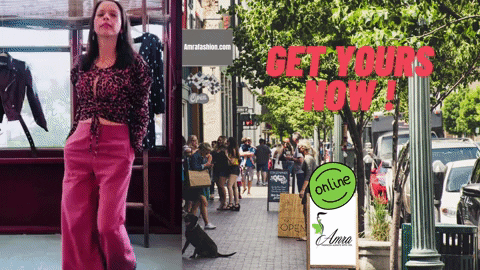 We want to achieve a high position of recognition in online marketing and be defined as a company that is: Agile Modern Responsible and Amiable by providing to our customers security and satisfaction in all their purchases.
Logo Definition 
The Amra Fashion logo means a lot about our brand, it represents each woman's unique style. The logo has the illustration of wind flowing, a woman that is always on the go, and the leaves on her dress signify natural beauty and elegance.
Amrafashion.com 

always with you!